Mid-East roundup
The Canadian Federal Election distracted me a bit from the latest developments in the Mid-East. Luckily I can count on the mid east blogs to get me right up to date with their coverage:
The Lion has been tamed
-
Rampurple
from the
Lebanese Blogger Forum
fisks
Syrian President Bashar Al-Assad
. Count your days Bashar, the people aren't buying your b.s. anymore.
Hamas as partners in Peace? I don't know.
-
Freedom for Egyptians
has an interesting observation regarding the Palestinian Parliamentary elections on Hamas' participation. Now I don't exactly agree with it as I suspect Hamas is just pulling this off as a temporary thing. More or less a
Trojan Horse
strategy, while simply postponing their "holy war". I pray to god I'm wrong though.
Curse you capitalism and your peacemaking, prosperous ways!
-Our buddy
Sandmonkey
(currently touring the U.S.) gives us the
latest economic stats
as a result of the QIZ free trade agreement between Egypt, America and Israel: Higher Wages, increased exports, lower unemployment, goodwill gestures on all sides...Its terrible..absolutely terrible! Down with capitalism!
Iranian Warmongers?
-Even the most radical peacenik must acknowledge that Iran
isn't making things easier
to prevent a military clash. h/t
Kash's Newsroom
Freedom of the Press takes hold in Iraq: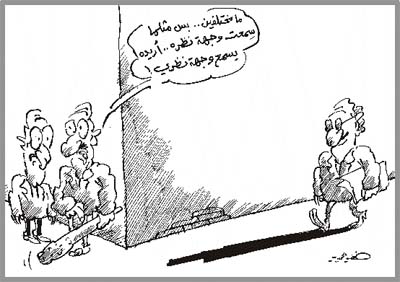 Prior to the Liberation of Iraq in 2003,
these types of cartoons
were unheard of in Iraq. Usually in the Arab world, editorial cartoons were inspired
by the S.S